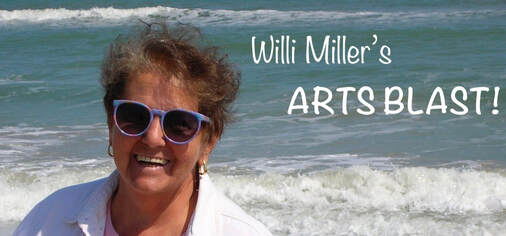 ---
An introduction
I began covering the arts on Florida's Treasure Coast almost 25 years ago after working in Miami with WTMI-FM. Before Miami, I spent 16 unforgettable years in the U.S. Virgin Islands, getting my feet wet in broadcasting at WVWI, as program director and host of a radio talk show, and learning how to live in the Caribbean - not easy but so worth the effort.
When I made my way north to the Treasure Coast, I landed at WQCS, the regional NPR affiliate, producing Arts Spotlight and arts-related special programs for 15 years or so. I tried retirement, but that wasn't for me. Soon I was tapped to produce a weekly radio segment for the Cultural Council of Indian River County. My arts coverage spilled over from radio to print when I was asked to write an arts and entertainment column for TCPalm.com. At the end of 2018, I tried retirement again, and immediately realized there was no retiring from spreading the word about the wealth of arts, culture, and entertainment we have to offer.
Over the years, I've met hundreds of interesting and talented people and discovered places to go and things to do that I just have to share. From Brevard County to North Palm Beach County and looking west, Willi Miller's Arts Blast will keep you moving, learning, and having fun. Subscribe to the free weekly eMagazine at willimiller.com or just check back here every week for the latest issue. On Facebook, it's Willi Miller's Arts Blast and Willi Miller's Arts Blast Extras. Come explore with me.