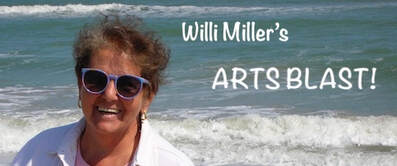 ---
March 17, 2023
In This Issue
Art Walk in Fort Pierce Tonight!
Chamber Music Society of Lincoln Center at CCOVB
Ballet Vero Beach at Vero Beach Museum of Art
Bob Ferreira - 30 Years and Counting as a Freshman!
Phenomenal Women for AAUW-VB
Backus is Calling Photographers
Two Shows at Lighthouse ArtCenter
100% Pure Florida Ribbons
Under the Oaks Winners
Stuart Community Concert Band
Music Angels at the Majestic
Tidbits
Happening in Brevard (and all over Arts Blast land)
...and more!
CHECK THE ARTS BLAST CALENDAR ONLINE FOR DAILY ADDITIONS
---


---

---

December 31, 2021

Notes from the editor:

​

And so we begin again.

Onward into the unknown one more time, stronger, more resilient, more determined.
​We can do this.

Here's to a happier, healthier, musical, art-filled, even more successful year ahead.

---

SUPPORT OUR ARTS COUNCILS

How to Submit Calendar Information for ARTS BLAST:
​

Information is to

be received in an email at least one week in advance.




Use this format:




Who (organization)




What (Event)




When (dates, time)




Where (Name of venue, address)




Why (a brief description of the purpose)




Web address




Contact for public (for tickets, questions, etc.)




Then add a short, descriptive release if available.




Send only one photo, with caption, until more are requested.




Media contact with email for my followup (not for publication)